Ideal for the eye contour area, to reduce fine lines or erase puffiness. Boulado Visage is also ideal...

20,00€ inc. tax

Details
The Boulado body is dedicated to massaging: the oval of the face, cervicals, muscles under the thumb...

26,00€ inc. tax

Details
Palpeur n°1 is dedicated to massage: mouth contour, fingers, hands, center of shin, lower...

17,00€ inc. tax

Details

Palpeur n°4 is dedicated to massaging the same areas as P3 bis and P3 but with greater intensity,...

25,00€ inc. tax

Details

Palpeur n°5 is dedicated to massage: stomach, thighs, arms, calves and lower back. The Palpeur...

33,00€ inc. tax

Details
The Boulado's mechanical principle, thanks to its inclination, generates a dual kneading and draining action that will surprise you.
The different models have been designed to promote lymphatic drainage and muscle relaxation by adapting to different body zones.
Discover Boulado, the new ally for your well-being.
This little object is a French innovation that offers both kneading and draining action.
The Boulado is unique, patented and used by physiotherapists and beauticians, as well as by numerous athletes.
During this conference, Roland Duvet will present his award-winning invention at the 2008 International Innovation Fair.
Lymphatic drainage detoxifies tissues, facilitates cell regeneration and relieves joint pain by removing the toxins and acids responsible for osteoarthritis. The massaging action acts on muscles, cramps and aches...

For all therapeutic uses, ask your doctor for advice.
You will discover a new and enjoyable sensation !
Massage therapists use it to relax muscles and heal tissues by stimulating cell regeneration. Joint and muscle pain is reduced.
Aestheticians appreciate it for facial treatments and its palpate-draining effect, which combats cellulite.
Boulado has the same contraindications as manual massage. For any therapeutic use or draining massage, it is advisable to seek your doctor's advice.
The Boulado face
(one size)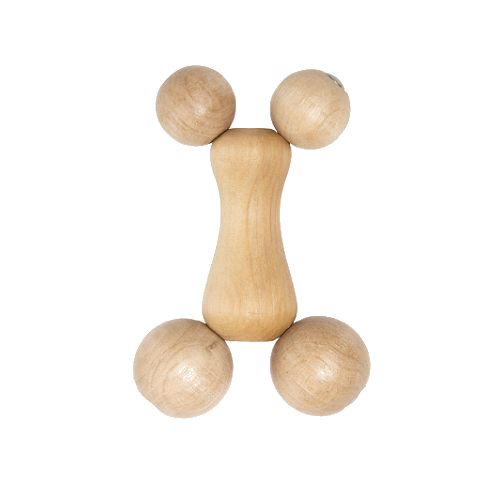 The Boulado body
(standard size)
The Boulado sensor
(6 sizes to suit your needs)
Boulado is made in Marmande in the Lot et Garonne region of France from hornbeam from forests managed by the ONF. It is renowned for its strength and fine grain.

To reduce our carbon footprint, the sawmill is located close to the forests where the hornbeams are harvested. The turning workshop is a few dozen kilometers away. Assembly is carried out by hand in the workshop adjoining the shipping department, where only recycled cardboard packaging is used.

Hornbeam is also used in gemmotherapy, Bach flower elixirs, essential oils... Its sap is naturally antiseptic.
It is finished with a natural linseed oil patina.